Our Instructors
How is Pro Dive Roatan different?
Choosing your dive professional…
Yes, You should choose your dive professional… Like any other profession, dive instructors come in all shapes and sizes. There are a lot of different levels of instructors, some with more qualifications than others, but qualifications aren't everything in diving. You should also be considering many other factors such as their experience in the diving industry. How long have they been a professional? Where in the world have they dived? How long have they been on the island, and how well do they know the local reef? How many courses have they taught, and at what levels? These are all valid questions to ask.
However, there is more to choosing an instructor than just their professional history; there is also personality and disposition. You will learn more, and retain more, if you can relate to the person that is taking you on your diving journey. Especially when looking at training programs, you should also consider class sizes, the individual attention you will receive, as well as location and access to sites more suited to teaching.
HOW WE CHOOSE OUR PROFESSIONALS…
Here at Pro Dive Roatan we do things a little differently, and have very high standards for the dive professionals we employ to take you on your diving journey. We only hire experienced professionals, and ensure that they all have a minimum of 3 years teaching/guiding experience and have an extensive knowledge of Roatan and the local reefs. In fact, most of our dive professionals have much more experience than this. All of our staff have dived extensively in Roatan and all over the world, and most have logged thousands not hundreds of dives and taught hundreds of courses.
We have a maximum course size of 4 students per instructor; most training agencies allow you to teach up to 8 at one time. We pay our dive professionals an above average wage, so our prices are a little higher, and are also scaled to the number of students on any course. Our flexibility and small group sizes allow you to choose between one on one instruction, a couples course for you and your significant other or BFF, or a course full of your closest friends or family, threesome's are fun, or four to one – You choose!
We are located adjacent to Half Moon Bay for teaching confined water, (our version of a swimming pool – but warmer and far more scenic). Also we have two of the best open water teaching sites, right in front of our shop (Lighthouse and Moonlight Dive Sites) and several more fantastic dive sites within a mile of our shop. If you are looking for experienced professionals, and services tailored to your every need, Pro Dive Roatan is the dive shop for you.
WHY IS PRO DIVE ROATAN DIFFERENT?
Roatan is a mecca for scuba divers from all over the world, so for someone who is considering becoming a professional dive instructor, this is one of the best places to come to do your training. Roatan is also a hot spot for what we call "CDC's" (Career Development Centers). Pro Dive Roatan is not a CDC, we are a boutique dive shop that specialises in catering for small groups and individuals.
CDCs tend to be very busy dive operations, with many students at many different levels. They often teach multiple customers at the same time they are training their "dive professionals to be". However, it is important to remember that these professionals in training aren't always there for the benefit of other customers, they are also paying customers continuing their own training.
CDC's certify divers up to multiple levels, and are popular for "zero to hero" style course structures whereby a new diver can become a professional within a short period of time by completing multiple courses consecutively. This can mean that an instructor who has recently qualified has just a few months of experience, and as little as 100 dives; this also means that some newer instructors have very little working knowledge of the reef, dive conditions, and generally how to make sure that you get the best dive experience or training possible. Every course taught and/or supervised, and every dive you lead as a professional makes the next one a little better for the next customer.
To ensure you are given the highest standard of care and the best experience whilst diving with us here at Pro Dive Roatan, we have a rigorous screening process for our professionals and above average standards for student and dive group sizes.
Our Experienced Instructors
We require all of our instructors to have a minimum of 3 years teaching experience AND extensive knowledge and experience of diving locally so we can guarantee a quality dive experience. We pay our staff livable wages so they're free to teach at your pace.
Paul Connelly
SSI Dive Pro, PADI MSDT, PADI OWSI, PADI DIVEMASTER
41 years teaching adventure sports
22 years of diving experience
5 years of teaching diving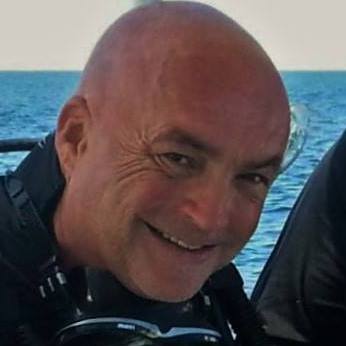 Mo Tarée
Instructor, Professional Photographer
25 years of diving experience
10 years of teaching diving
Ready to blow bubbles with us?
Let us know about your trip or ask a question about our courses to learn more!