Become a Certified Diver
With the Open Water Diver Course
3-4 Days, 4 Dives
Why would I want to become a certified diver?
The Open Water Certification is is the most popular scuba course in the world. It has introduced millions of people to experience the underwater world up close and personal. Once certified, you can dive anywhere in the world.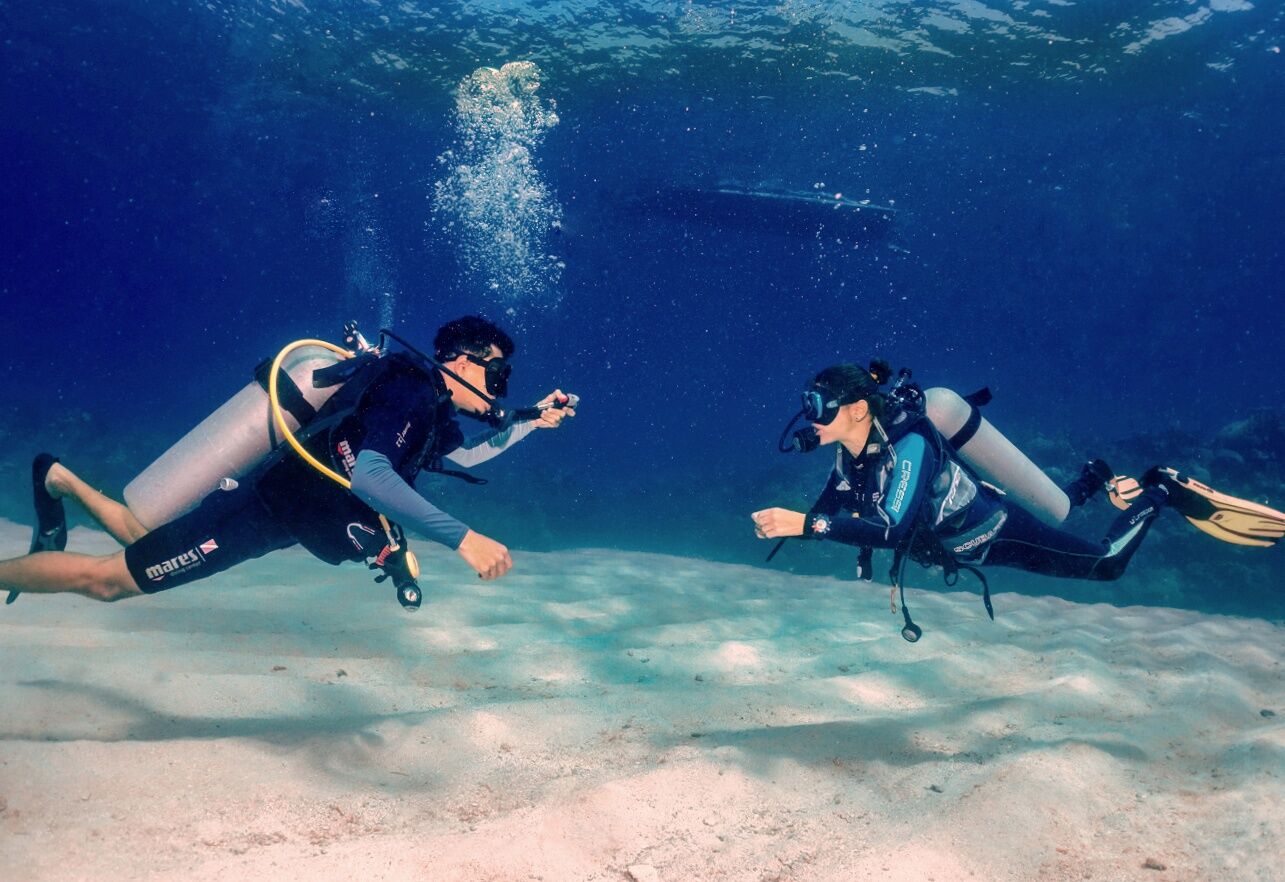 Your certification from either PADI or SSI is recognized worldwide, and you are certified for life! By the end of this course you will know how to safely plan and execute your own dives (but we highly recommend that you always dive with a professional).
What are you waiting for? Let's go blow bubbles!
Course Information
Prerequisites & Requirements
Must be at least 10 years old
Adults (15+) who complete the course will earn their Open Water Diver Certification and be certified to dive to a maximum depth of 60 feet/18 meters
Youth ages 10-14 who complete the course will earn their Junior Open Water Certification and be certified to dive a maximum depth of 40 feet/12 meters with a certified adult
Requires reading course materials prior to instruction
Course duration is 3-4 days
Course Overview
The Open Water course has 5 main sections:
#1 – Reading and videos (online or classroom)
Most people will choose to do the reading and videos online before arriving on vacation. This allows you to maximize your vacation time when you are on island, and also to spend more time going through the materials and getting a good understanding of it before going into the water. If you want to study in the classroom after you get here, then that is not a problem, we will issue your materials at the dive center.
#2 – Swim and float test
The swim test is a 100 yard/meter swim at your own pace, no pressure, just take your time and cover the distance at a leisurely pace. The float test is the most relaxing part of your course and consists of lying on your back for 10 minutes in the crystal clear Caribbean waters of Half Moon Bay—not too tough!
#3 – Confined water sessions learning the basic skills
The confined water section consists of learning to comfortably execute approx 25 (slight variation between PADI and SSI) "skills". These are the basics of diving and ways to deal with any problems which may arise on your dives.
#4 – Open water dives applying the skills you've practiced
The open water dives are where it really gets fun! You will have 4 dives where we repeat some, but not all of the skills from confined water, learn descents, ascents, good buoyancy, trim and kicks. Each dive consists of some skills work followed by actual diving! By the end of the four dives you will be comfortable, relaxed, and able to dive almost anywhere in the world.
#5 – Final exam to make sure you understood the reading and videos
Once you've passed the final exam and demonstrated all of the skills, we're happy to congratulate you as a certified Open Water Diver!
Investment
This course starts at $294.12 before taxes. View pricing details here.
With PADI, you may purchase your course materials online directly through their website. Their e-learning package is currently $190.
For SSI, you'll receive the digital materials directly from us and the cost is included in the price of your course.
If you'd prefer to study from books and videos, both organizations offer those at about the same price.
Short on time or not sure if you're ready for a full certification? Try out scuba diving with our Discover Scuba course.
Other Courses to Check Out