Try Scuba Diving
With the Discover Scuba Course
3-4 Hours, 1 Dive
Should I take this course or the Open Water Diver course?
Short on time or not sure if diving is going to be "your thing"? Then this is the perfect adventure for you! If you want an introduction to diving without taking a certification course (usually 3-4 days), you can try out scuba diving with the 3-4 hour Discover Scuba course.
The Discover Scuba course is an introduction to the underwater world without the need for studying, and it will allow you to find out what it's like to enjoy our amazing reef. If you have any kind of hesitation towards scuba diving, this course is perfect for you. The experience does not certify you as a scuba diver, but you will learn the basics of how to use your equipment in shallow water and get an opportunity to explore a whole new world.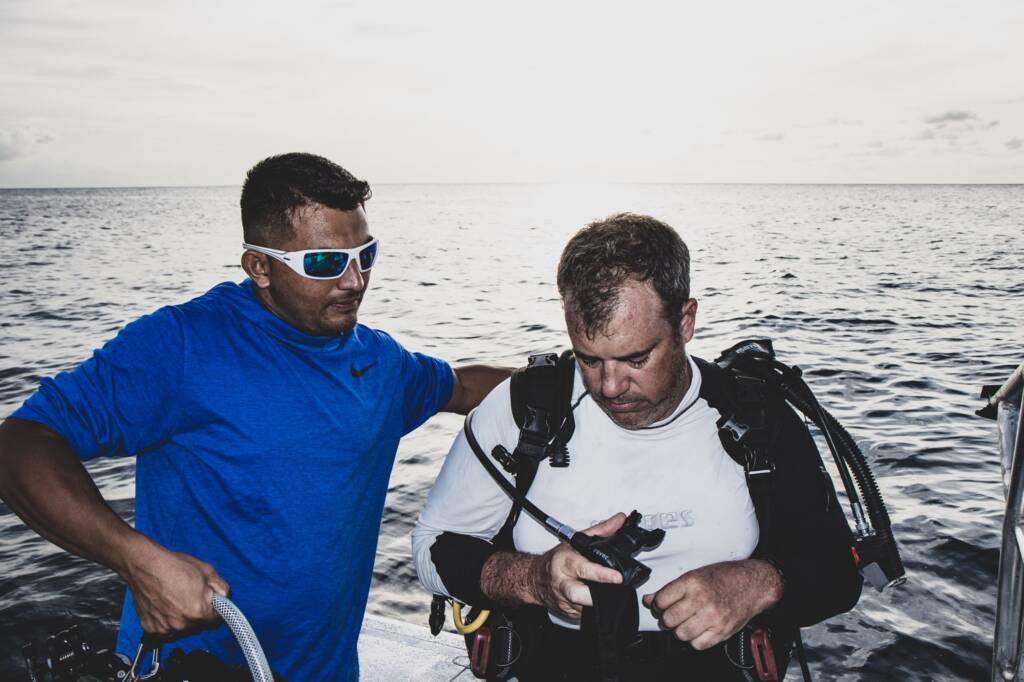 Will I be safe while I'm trying scuba diving?
This course is a very gentle introduction to our amazing underwater world. You will be closely chaperoned by one of our highly experienced instructors every step of the way—they'll never be more than a few feet away from you and will help you with adjustments, keeping you calm, and making sure you enjoy every minute of your adventure. You can read more about our instructors here.
Most dive shops will take as many as 4 people for this "experience" with only one instructor. However, we want to guarantee that you get personalized attention, so we only allow a maximum of 2 students per instructor for this experience.
If you have more folks that want to take the class with you, we will bring in another one of our amazing instructors to help them too! Please make sure to book this experience in advance so that we can accommodate the needs of your group.
Course Information
Prerequisites & Requirements
Must be at least 10 years old
No prior reading or studying required
Course duration is 3-4 hours
Course Overview
Maximum depth: 40 feet / 12 meters
This course has 5 parts:
#1 – Instruction video or presentation (20 minutes)
#2 – Gear
We familiarize you with your scuba gear and show you the key points and functions that you'll need to be able to use.
#3 – Signals
We then take you through some signals that we use to communicate underwater.
#4 – Confined water
We'll put on the gear and get into shallow water—about chest deep. We'll start by putting our faces in the water and practice breathing from a scuba regulator. It can be a little weird at first, but with practice it's not that bad!
Then we kneel down into the sand and practice 4 simple skills that you may need to use on your dive.
#5 – Fun dive
Here's the fun part, we'll hop on our boat and go for a dive! You'll be next to your instructor at all times and they will help you make adjustments as needed. You'll have the chance to see the reef up close and trust us, you'll definitely want to complete the Open Water Certification course!
Other Courses to Check Out